Dana "Short Order" Cooke has produced three albums, one of which sold out and is no longer available. Of the other two, however, mountain-sized piles remain. And they are available here, at a nominal cost. Click on the "Add to Cart" links below to purchase via PayPal; or send $10 per CD and $5 per cassette (plus $1 per item for shipping) to Spike Records, 510 Scott Avenue, Syracuse, NY 13224. Make checks payable to "Dana Cooke."
Snowball's Chance - 2003
PAYPAL
CDs are $10
Snowball's Chance features 13 songs by Cooke and one by Joe Cleveland (the "secret hidden bonus track"). This album was a band project. Cooke, Cleveland, and bassist John Dancks appear on all the songs (except two that lack bass). The songs represent a range of farce and epiphany, self-parody and assertion. And yet some are more heartfelt, less mocking than previous Dana Cooke compositions. There are two love songs on the album, and another three that deal with relationships gone bad — unheard of in the previous Dana Cooke catalog.
Critical reaction at the time: "a happy 15-song collection full of wisdom and whimsy," Mark Bialczak, Syracuse Post-Standard, who also gave it a four-out-of-four-stars review and named it the #3 local album of 2003; nominated, best album, Syracuse Area Music Awards; "Cooke and his band, John Dancks and Joe Cleveland, are poets of the contemporary purgatory that is Middle America -- poets of passion and hope," SingOut! [read the full review]; in an annual survey of local musicians and their favorite love songs, Larry Hoyt cited "The Way You Look" [read Mark Bialczak's blog].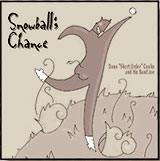 The songs:
It's About Freakin' Time
You Win Again
Bone
My Divorce
The Way You Look
Beer Fix
A Chill Comin' On
Cold Day in Hell
The Past Gets Bigger Every Day
Empire State
Guano
I'm Gone Now
This Is Heaven
What's a Kitty To Do?
Time To Begin
All songs copyright © 2003 by Dana L. Cooke, except "Time to Begin" © 2003 by Joe Cleveland. Performers: Dana "Short Order" Cooke and His Band Joe: Joe Cleveland - banjo, lead guitar, vocals; Dana Cooke - guitar, vocals, and very little banjo; John Dancks - upright acoustic bass. Also featuring: Hanna Richardson - mandolin, harmonies; Tim Hodgson - pedal steel guitar; Charlie Shew - drums/percussion; Henry Jankiewicz - fiddle; Max Cooke - electric guitar. Recorded March-April 2003 at Electric Wilburland, Newfield, N.Y. (Will Russell, engineer; www.wilburland.com).
County Fair - 1998

Conceived as a concept album, County Fair contained eight songs that were either directly or loosely based on Cooke's youth and upbringing in Otsego County, N.Y. (home of Cooperstown). Two songs on the album appeared previously on Wildman. Others were somewhat hastily and cheaply recorded, giving County Fair a sonic quality that is, at best, uneven. And yet this CD contains many songs that grew to be fan favorites, including "Treehouse," "Eva Coo," "Christmas in Cooperstown," "Three-Legged Dog," "King of the Demo Derby," and the baleful "Oughta Be a Law."
Critical reaction at the time: Nominated, best album, Syracuse Area Music Awards; read the full Syracuse New Times review.
No copies of County Fair remain for sale. However, free mp3s are available at the Free Downloads page.
Wildman - 1996
Wildman also contains 14 songs, again featuring Cooke's carefully crafted lyrics and trademark sense of humor. Musically, the offerings are a bit more diverse; this was Cooke's first CD and contained a sampling of the best of his varied compositions of the previous ten or so years.
Wildman features an array of guest musicians and singers (15 in all), including Darryl Murdock and Julia Kril (the Shrinking Violets), longtime local songwriting fixture Dennis Friscia (who records as Bergman Broome), eventual Cooke sidekick Hanna Richardson (on both vocals and mandolin), session musicians Tommy Witkowski and Tim Hodgson (horns and pedal steel, respectively), popular open mic host Becky Keefe, and guitar buddy Chris Weiss. Dave Kleiner and Liz Pagan appear here and there too.
Critical reaction at the time: "For a debut release, Wildman is an absolute knockout," Larry Hoyt, Syracuse New Times; at another time, Larry said, "overflows with intelligent, insightful, sensitive, witty, ironic songs;" nominated, best album, Syracuse Area Music Awards; Homegrown Radio's Top Five Local Album Chart; New Times' Year-End Round-Up and Best of 1996 list; "My Father's Bald" named one of the Best Local Songs of 1996, also by the New Times; "A really cool album . . . some really cool stuff . . .," Dave Frisina, Soundcheck, WAQX (95X); "A great new collection . . . a great album," Gene Ira Katz, State Theater Radio Show, WIII (I-100); also on Gene's "Best of '96" list;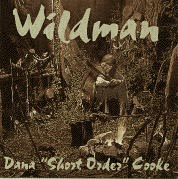 The songs:
My Father's Bald
Who's Fooling Who?
Sky Diver
Wildman
Used to Be
Happy 4th of July Bud Light
Famous
Figuratively Fishing
Kiss for Daddy
Cynical Love Song
Last Night I Shaved Off My Beard
The Field
Pony Lullaby
Artist's Heart
Shortly after the album appeared, it was named to Homegrown Radio's Top Five Local Album Chart. It made the New Times' Year-End Round-Up and Best of 1996 list; and "My Father's Bald" was named one of the Best Local Songs of 1996, also by the New Times.
Note: A video of the song "Wildman," produced by local folk-music supporter and video dabbler Larry Hoyt, appears on YouTube.
For PayPal customers:
All songs copyright Dana L. Cooke, except where otherwise noted