Dana Cooke is a Central New York singer-songwriter, in a folk/acoustic style. His quirky, often wry, and always unusual songs, delivered in a relaxed and unassuming manner, built a small but devoted following in the late 1990s and well into the next decade. He is also known now as a lead volunteer in the Folkus Project, which produces folk/acoustic shows in Syracuse.

Cooke is a songwriter in the mold of Roger Miller, the Roches, and especially Loudon Wainwright III. For him, nothing is more important than the absurd and ironic. His songs are noted for combining soft-chuckle humor with sentimental, sometimes heart-tugging observations on everyday life.

Solo at first, then for at least five years accompanied by Hanna Richardson, and then, in the early 2000s, with the well-remembered His Band Joe (Joe Cleveland on guitar, banjo, and vocals; John Dancks on upright bass), Cooke has appeared on most of the coffeehouse stages and in the other intimate, acoustic-music venues of the region.

He is now doing shows in a new trio configuration, with Judy and Jeff Stanton. They perform most of Cooke's best-loved songs, with a few new ones, some Judy and Jeff originals, and select covers.

Cooke has has produced three albums — the last one, Snowball's Chance, in 2003. All were nominated for Syracuse Area Music Awards.

More History

Cooke started appearing, humbly enough, at the popular Tuesday night open mic at Syracuse's Happy Endings Cake & Coffeehouse, offering whatever ditty he'd recently devised. Slowly, through the early 1990s, he began to build a reputation for instantly catchy, always distinctive compositions such as "My Father's Bald," "Famous," and "Sky Diver." Soon thereafter, he launched his avocation as a local coffeehouse performer. And then came his first album, Wildman, issued in 1996, and loaded with musical ideas and lyrical inventions of a caliber rarely seen in local music. Thereafter, Cooke adopted mandolinist and harmonizer Hanna Richardson as his performing partner; later, they were joined by bassist John Dancks, and became the Short Order Symphony. The threesome appeared on stages throughout Upstate New York and occasionally beyond.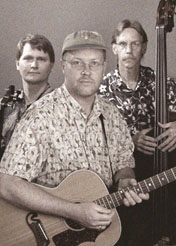 A second CD, County Fair, appeared in 1998; it was intended to honor Cooke's youth and upbringing in Otsego County, New York, and continued Cooke's catalog of unique, sometimes odd little songs, quaintly melodic and always artfully crafted. One track from that album, "Christmas in Cooperstown," was also selected for a nationally distributed anthology of baseball songs.
In 2001 and 2002, after a short hiatus, Cooke returned to the stage, with local folk musician Joe Cleveland at his side. Bassist Dancks returned to the fold, and His Band Joe was born (pictured at right). This combo undertook an ambitious performance schedule while Cooke enjoyed one of the most productive writing spells of his career. Within another year, work was under way on Snowball's Chance, Cooke's third and final album. Unlike the previous two, this album was centered around the stage persona, with the full His Band Joe at the center of every track. Here, too, were some of Cooke's best-liked songs: "Cold Day in Hell," "The Way You Look," "Bone," "It's About Freakin' Time," "Empire State," and the eminently bizarre "The Past Gets Bigger Every Day." With the album's appearance, many more performances followed.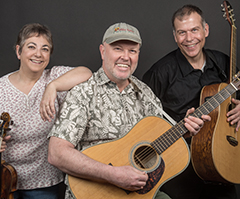 Between his three albums, Cooke received five nominations for Syracuse Area Music Awards, three in the best album category and two in the songwriter category. In years since then, Cooke has written just a few new songs — many of which are available on the Free Downloads page. (Plus, two of his three albums remain available.)
Now, after a near-hiatus from performing, Cooke is back on stage, with the Stantons (left), bringing his rare brand of sardonic songwriting back to the masses — or at least the 30 or so people likely to show up.