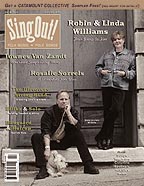 "Snowball's Chance" was reviewed in the Summer 2004 issue (Vol. 48, No. 2) of SingOut! magazine, the national folk-music magazine co-founded long ago by Pete Seeger. Here's what it said . . .
---
If there is a heaven above, then Dana "Short Order" Cooke's latest 14-track release will get the attention it deserves. With devilish irony and self-effacingly hellacious humor, Cooke is a modern-day Everyman who endures life's reverses, major and minor.
What Cooke lacks in strong, full-bodied vocals, he more than makes up for with clever lyrics, as in "The Past Gets Bigger Every Day," a paean to the spirit of carpe diem for those 40 and older.
The sense of time fleeting haunts Cooke's songs, be they the whimsical "It's About Freakin' Time" or "My Divorce." Dissolution and loss are fragile threads that wend their way into the past in "Empire State," which evokes economic decay and shattered spirits in a world-weary New York.
Cooke's gently understated guitar picking seems the perfect foundation for his personal songs, such as "The Way You Look" and "I'm Gone Now," and yet he can ratchet up the action in "What's a Kitty To Do?" and "Beer Fix" (where alcohol is the perfect cure for all woes). Cooke and his band, John Dancks and Joe Cleveland, are poets of the contemporary purgatory that is Middle America -- poets of passion and hope.